The Green Book – Occupational Health & Safety Act and Regulations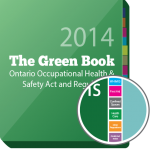 2017 Ontario Occupational Health & Safety Act and Regulations – AVAILABLE End of APRIL
The Ontario Occupational Health and Safety Act and Regulations (OHSA), often referred to as The Green Book, is available in this version that is much easier to read and use.
We make it quick and easy to identify the information you need with our new method of indexing the Acts and Regulations for Ontario. Then, we help you locate that information with our exclusive colour coded cut-out tabs. Finally, by printing the Act in a larger font, we have made it easier to read and understand the material.
No longer will you need to plow through irrelevant Regulations to find exactly what applies to your own industry, or squint at the tiny print..
Businesses in Ontario are required to post a copy of the book on their Health & Safety Notice Boards.
Please note:
We will have inventory of the 2017 Green Books, end of April. The Larger Font, Hanging Kit and the Colour Tabulation really does help make maneuvering through the OHS Act & Regulations so much easier!
Order today and don't miss out!
Price: $33.95
Print This Page
Email This Page
© 2018 Act First Safety