Fire Protection 
Monthly Special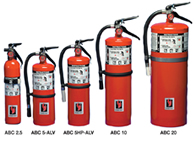 Strike First 3A40BC rated Fire Extingusiner. SALE price is $52.95 The Ontario Fire Code was updated in Nov 2007. Lift Truck battery charging areas and fuel powered Lift Trucks now require this ABC Dry Chemical unit.
Safety Products Catalogue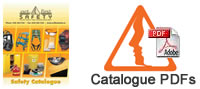 We offer a comprehensive list of products. View our Online Catalogue product categories. Click here.
Commercial and Industrial Fire Extinguishers
One of the most cost effective and most efficient items of safety equipment your facility needs to have is high quality fire extinguishers. When fire strikes in your facility, it is to late to plan for the emergency. Only with preparedness and a sound safety program will your company be ready in the event of a possible disaster.
The Effectiveness of Portable Fire Extinguishers
A survey prepared by the National Association of Fire Equipment Distributorsrecently revealed that hand operated portables extinguished over 90% of the fire incidents in commercial facilities. In most cases the fire was completely extinguished before fire department personnel arrived on the scene. And they can put out fires before the sprinkler system activates, and sprays water all over your furniture and carpets.
Training in the Use of Fire Extinguishers
Employee training in the use of fire extinguishers should be an important part of your safety program. At Act First Safety we offer Fire Extinguisher Training. The objective of the training is to inform, demonstrate and provide confidence to employees in the safe and effective use of fire extinguishers in the workplace. Studies have shown that an employee with even minimal training is able to put out significantly larger fires than those with no training.
Fire Extinguishers
| | | |
| --- | --- | --- |
| Fuel Source | Class of Fire | Type of Extinguisher (Extinguishing Agent) |
| Ordinary Combustibles (e.g., trash, wood, paper, cloth) | A | Water, chemical foam, dry chemical* |
| Flammable liquids (e.g., oils, grease, tar, gasoline, paints, thinners) | B | Carbon dioxide (CO2); halon**; dry chemical; aqueous film forming foam (AFFF) |
| Electricity (e.g., live electrical equipment) | C | CO2; dry chemical |
| Combustible metals (e.g., magnesium, titanium) | D | Dry powder (suitable for the specific combustible metal involved) |
* Dry chemicals, and CO2 can be used on Class A fires, but may not be effective on their own. They need to be supplemented with water.
Act First Safety carry a complete line of Fire Extingusihers rated for each of the fire classifications. (Class A, B, C, D, K)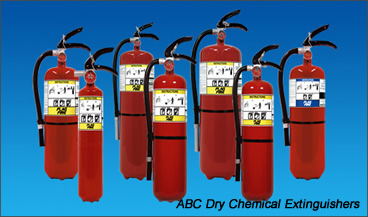 Please contact our office for further details on Fire Safety products and Fire Safety Equipment.
Print This Page
Email This Page
© 2018 Act First Safety