Fire Extinguisher Training Program
The safe operation of portable fire extinguishers is your first line of defense in protecting your people and property in the event of a fire. The objective of our Fire Extinguisher Training is to inform, demonstrate and provide confidence to employees in the safe and effective use of fire extinguishers in the workplace. Fires start small and may be extinguished by well-trained, knowledgeable employees using the proper equipment.
Act First Safety is committed to assisting you with reducing your risk of loss due to a fire. This two-part Fire Extinguisher Training program combines both theory and practical hands-on demonstration and is designed for Office, Industrial and Construction sectors.
Fire Theory
This portion of the program takes approximately 15 minutes of outdoor instruction.
Identification of the benefits of training from an employer/employee perspective
Knowledge of the three elements of fire
Recognition of the classifications of fire
Review portable fire extinguisher ratings, uses, and methods of operation
Understand the PASS method
Review portable fire extinguisher maintenance and inspection processes
Using specialized training equipment Act First Safety simulates real fire situations for practice in extinguishing A, B and C type fires.
"Hands-on" experience of a real fire situation in a controlled environment
Practice the proper and most effective use of the portable fire extinguisher
Our automated demonstration system allows the trainee to 'get it right'
Demonstration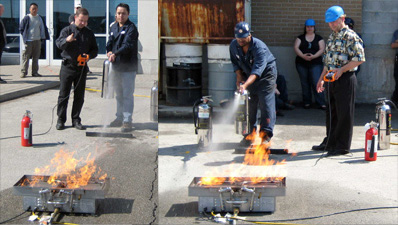 Benefits
Act First Safety's specialized portable fire extinguisher training provides employers with the following benefits:
Enhanced fire protection safety
Employee involvement
Comprehensively covers the important aspects of portable fire extinguisher safety in a short time-frame
Promotes the proper use of the fire extinguisher equipment
Environmentally friendly
Utilizes a safe pressurized water fire extinguisher eliminating the use of chemical systems
Because we use our equipment and not yours:

There's no messy 'dry chemical' waste clean-up
Saves money with no expensive refill charges
Provides continuity of fire protection without use of your on-site extinguishers

Faster, confident response to a fire emergency situation reduces your exposure to fire-related losses
It's FUN!
A record of training is provided. Wallet cards are provided to each trainee upon successful demonstration in the use of the Fire Extinguishers.
Please contact our office for further details on Fire Extinguisher Demonstration training for Office, Industrial and Construction.
Fire Protection and Prevention Regulations
Ontario
The following is © Queen's Printer for Ontario, 2009 – 2009
Fire Protection and Prevention Act, 1997
Fire Code
12. (1) The Minister may make regulations that are considered advisable or necessary for the purpose of establishing a fire code for Ontario governing fire safety standards for equipment, systems, buildings, structures, land and premises including regulations,
(a) prescribing any method, matter or thing relating to fire protection;
(b) respecting standards for reducing the risk of, or consequences of, a fire that would seriously endanger the health or safety of any person or the quality of the natural environment for any use that can be made of it;
(c) requiring and regulating fire protection equipment and systems and respecting the maintenance of such equipment and systems;
(d) requiring and regulating means of egress, fire separations, finish materials, furnishings and decorations, standards of housekeeping and heating, ventilation, air conditioning and incinerating equipment and systems;
(e) controlling or prohibiting any material, substance, equipment or system affecting fire safety;
(f) requiring and regulating procedures respecting fire safety and the keeping and furnishing of records and reports;
(g) requiring the approval of the Fire Marshal or of a prescribed person in respect of any method, matter or thing;
(h) requiring notice to be given to the Fire Marshal or to a prescribed person respecting any change in use or occupancy;
(i) prescribing conditions for use, occupation or demolition;
(j) exempting any class of building, structure, lands or premises from compliance with the regulations or any provision thereof, and attaching terms and conditions to such exemptions;
(k) respecting the qualifications and training of persons servicing, maintaining, testing or repairing fire protection devices, equipment or systems and the licensing of such persons;
(l) adopting by reference, in whole or in part, with such changes as the Minister considers necessary, any code or standard and requiring compliance with any code or standard that is so adopted.
Print This Page
Email This Page
© 2018 Act First Safety