Working at Heights / Fall Protection Training Program
Public Training Programs
All of our Training programs are offered at your workplace. For individuals or small groups wanting to take advantage of our regularly scheduled PUBLIC programs call to register for any of the following upcoming dates:
Working at Heights (MOL approved 7.5 hr program)
Scarborough Location -8am start.
Wednesday July 26
Saturday July 29
Wednesday August 2
Thursday August 3
Wednesday August 9
Saturday August 12
Saturday August 26 (Mandarin)
Register Now! Call 416-283-7233 for details
Fall Protection Gear Catalogue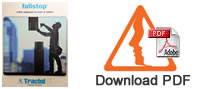 We offer a comprehensive list of products. View our Online Catalogue product categories. Click here.
Act First Safety is an approved 'Ministry of Labour' training provider for the 'Working at Heights' training program in Ontario.
Deadline for Working-at-Heights Training has been extended to Oct. 1, 2017
But with Strict Conditions for Employers and Workers
The original April 1, 2017 deadline set by the Ontario government two years ago for all workers who work at heights greater than three meters (10 ft.) on construction projects to complete new Working-at-Heights training and be certified by the Ministry of Labour has been extended by 6 months to October 1, 2017.
Specific conditions must be met to qualify for this extension.
This extension only applies to workers who had completed adequate falls prevention training prior to April, 2015 (2 years ago) in accordance with s. 26.2(1) of O. Reg. 213/91 (Construction Projects), and it is granted with strict conditions for employers and their workers who work at heights on construction projects:
• Workers must be immediately enrolled in a Ministry of Labour-approved working-at-heights training program scheduled to be completed before October 1, 2017; and
• Employers must have written proof of enrollment that documents:
– Name of the worker
– Name of the MOL-approved training provider
– Date the training is to be completed
– Name of the approved training program
This written proof of enrollment must be made available to a MOL Inspector upon request. Without it, employers could face penalties or work stoppages.
Call Act First Safety now to schedule the required Working-at-Heights training
and receive a MOL-authorized proof of enrollment.
Act First Safety is a Ministry of Labour-approved Training Provider, and can provide workers and supervisors with authorized Proof of Enrollment, as well as the Working-at-Heights training they need to be certified by the Ministry. We are scheduling weekly Working-At-Heights training for the coming weeks to meet the increased training demand.
Call us at (416) 283-7233 today to book Working-at-Heights training, or visit actfirstsafety.ca for more information. We can deliver training in a classroom setting at your workplace or in a public session at one of our training locations. This training takes one full day to complete and qualifies workers and supervisors for a 3-year certification from the Ontario Ministry of Labour.
The Ontario Ministry of Labour (MOL) will enforce the Working at Heights Training Program Standard once it becomes a Regulation, and once it becomes a Regulation it will become mandatory – see more information at this link http://www.labour.gov.on.ca/english/hs/topics/heights.php .
In the past, the MOL has provided employers the necessary time to become compliant with any new Regulations. For instance, Bill 168 regarding Workplace Violence and Harassment allowed a 6-month compliance window for employers. At a recent safety conference, the MOL's Joe O'Grady stated that employers will be provided with a 2-year period to become compliant with the Regulation once it comes into effect.
About Act First Safety's Working at Heights Instructor led program
Employers, supervisors and workers all have responsibilities in reducing or eliminating falls from heights. Falls are the leading cause of accidental death and injury in Ontario. Every day, 80 people are injured from falls at work. On average, each injury results in 4 weeks of lost time (WSIB 2000).  Act First Safety has developed our training program to meet or exceed the new Ministry of Labour Working at Heights training requirements.
Purpose
To equip workers and employers with the knowledge necessary to prevent fall related injuries and deaths from occurring in the workplace.
Objectives
To provide a thorough understanding of fall protection with a focus on personal fall protection systems that increases worker safety while working at heights.
A combination of theory and practical components utilizing various teaching methods to appeal to all learning styles and hands-on training provided.
Who should attend?
Any individual working at heights or directs workers to work at heights above 3 meters (10 feet) or preferably from above 6 feet*.   All 'Construction' workers or those considered to be working on 'Construction Projects' will be required to successfully complete the Ontario MOL Working at Heights training program.
Working at Heights / Fall Protection Training Highlights
The purpose of this course is to provide knowledge on the effective selection, use and care of fall protection equipment and understand when and how it is required, at a minimum.  The following topics are covered:
Fall Protection, Fall Arrest and Fall Restraint differentiations
Regulations and Legislation
Hazards and Controls
Fall Prevention
Fall Protection Principles, Systems and Components
Proper donning and fitting of the harness
Equipment Inspection, Care and Maintenance
Travel Restraint systems
Fall Restricting systems
Fall Arrest systems
Safety nets
Work belts or safety belts
Duration
Approximately 7.5 hours at your location.
Course Completion and Review
A detailed record of training, test results, practical evaluations and wallet certificates provided.  A formal annual review of Fall Prevention training is recommended and ongoing site-specific training is required.
* NOTE: 75% of work-related falls occur between 6 ft -10 ft. OSHA regulated sites are more stringent and adhere to a 6 ft threshold for fall protection as do some corporate health and safety policies. The Canada Labour Code requires fall protection at 8 ft.
Please contact our office for further details on Working at Heights / Fall Protection / Fall Arrest training.
Provincial Fall Protection Regulations
Ontario
The following is © Queen's Printer for Ontario, 2009 – 2009
Occupational Health and Safety Act – R.R.O. 1990, Reg. 851
52. A crane, lift truck or similar equipment shall be used to support, raise or lower a worker only when,
(a) the worker is on a platform,
(i) equipped with adequate safety devices that will automatically prevent the platform and load from falling if the platform's normal support fails,
(ii) suspended from a boom that does not move, and the person is attached to a separate lifeline suspended from the boom or a fixed support capable of supporting at least four times the weight of the worker, or
(iii) attached to a mast, or boom which,
(A) is hydraulically or pneumatically operated, and
(B) is equipped with a safety device that will prevent free fall of the platform in the event of a pressure line failure;
85. Where a worker is exposed to the hazard of falling and the surface to which he or she might fall is more than three metres below the position where he or she is situated,
(a) the worker shall wear a serviceable safety belt or harness and lifeline adequately secured to a fixed support and so arranged that the worker cannot fall freely for a vertical distance of more than 1.5 metres; and
(b) the fall arresting system described in clause (a) shall,
(i) have sufficient capacity to absorb twice the energy and twice the load that under the circumstances of its use may be transmitted to it, and
(ii) be equipped with a shock absorber or other devices to limit the maximum arresting force to 8.0 kilonewtons to the wearer. R.R.O. 1990, Reg. 851, s. 85.
86. Where a worker is exposed to the hazard of falling into liquid that is of sufficient depth for a life jacket to be effective as protection from the risk of drowning, there shall be an alarm system and rescue equipment, appropriate in the circumstances, to ensure the worker's rescue from the liquid and,
(a) the worker shall wear a life jacket; or
(b) the employer shall develop written measures and procedures to prevent the worker from drowning and shall implement them. O. Reg. 284/99, s. 1.
Ontario Ministry of Labour – New working at Heights standard
Ontario is implementing a new workplace training standard to prevent falls and improve safety for workers who work at heights.
The standard will initially be voluntary and will apply to workplaces in the construction sector, as well as to construction activity in other workplaces.
Training programs designed to meet this new standard will improve knowledge about fall hazards and safety practices, including:
proper inspection of equipment for damage
procedures for setting up, relocating or removing protective equipment, such as guardrails
demonstrations and hands-on training on fall-arrest equipment and other devices to keep workers safe
information on workplace protections and worker's rights
The new standard builds on existing protections in place for those working at heights, establishing a consistent and high quality level of training for workers across the province. It was developed with input from across various sectors that included business, organized labour, health and safety organizations, and other experts.
Preventing injuries and keeping workers' safe is part of the government's economic plan to invest in people, build modern infrastructure and support a dynamic and innovative business climate.
Purpopse
The purpose of the Working at Heights Training Program Standard is to establish a threshold of high quality and consistency for training for workers who work at heights in the Province of Ontario.
The purpose of a working at heights training program that meets the requirements in this standard is to:
Strengthen workplace safety culture by elevating the profile and importance of preventing falls from heights.
Provide workers who may be exposed to the hazard of falling with adequate knowledge about fall hazards and general safety practices to work safely at heights.
Provide workers who use personal fall protection equipment with sufficient knowledge about its purpose and use; and
Reduce the number of fall-from-heights incidents, injuries and fatalities.
Requirements
The Working at Heights Basic Theory module must be successfully completed before the Working at Heights Practical Equipment module is taken.
A working at heights training program meeting the requirements of this standard may need to be supplemented by additional information, instruction and training in workplace-specific policies and procedures and workplace-specific equipment related to working at heights. In addition, employers must ensure that they meet the training requirements in the Occupational Health and Safety Act and its regulations.
QUICK FACTS
Developing mandatory fall protection training for people working at heights was a priority recommendation of the Expert Advisory Panel on Occupational Health and Safety.
In 2013, the Ministry of Labour has conducted two enforcement blitzes to protect people working at heights, visiting over 4,527 work sites.
A pilot program inspecting worksites after hours and on weekends was launched fall 2013.
In October 2013, the province posted a video to raise awareness of fall hazards and highlight worker safety initiatives.
Ministry of Labour inspectors have conducted more than 345,000 field visits to workplaces since 2008.
Print This Page
Email This Page
© 2017 Act First Safety