Safety Sign Audit Checklist
Safety Products Catalogue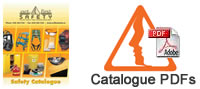 We offer a comprehensive list of products. To view our Online Catalogue product categories click here.
Facility Safety Sign Audit Checklist
Signs and symbols influence the appearance and safe operation of the workplace. The skillful selection of a sign system requires anticipating the needs of users or workers and defining operational requirements and answering questions before they are asked. To assist employers in the process of communicating messages supporting corporate policy we have prepared a Facility Safety Sign Audit providing guidelines, ideas and suggestions.
Please contact us to receive your complimentary Facility Safety Sign Audit Checklist.
First Aid Checklist
Scheduling regular first aid kit inspections can be a bit of a bother. We have prepared a first aid kit checklist including pricing to make your inspections and ordering go more smoothly.
Please contact us and we will happily send you this handy inspection tool.
Print This Page
Email This Page
© 2018 Act First Safety