Safety Showers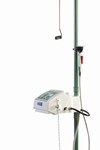 Hughes EXP-18G/45G. Unheated Emergency Safety Shower with Eye/Facewash Fountain. With low level water inlet. (Shown with optional Optiflex). Available in Galvanised or Stainless Steel. Note: Eye/Facewash orientation can be varied to suit clients' requirements. Also available with Eye/Facewash drain piped to floor level and high level water inlet model EXP-18G/45G-T.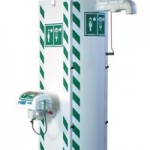 Hughes STD-TC-100K/11K. The Temperature Controlled (TC) Emergency Safety Shower is intended for outdoor use where the water requires heating. It has a 300 litre tank and 3kW heater and regardless of the ambient temperature will deliver tepid water for the ANSI recommended minimum period of 15 minutes.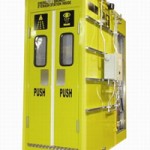 Hughes Polar Booth. Stainless Steel double skinned insulated frame with yellow GRP outer casing designed for outdoor use in exposed freezing conditions, complete with fire retardant insulation.
Provides temperature controlled water from a 300 litre or 450 litre tank, immersion heated and insulated. The integral heater ensures a constant supply of tepid water for the ANSI Z358.1-2004 recommended 15 minutes.
Please contact our office at 416-283-7233 for further details on becoming a distributor or finding one!.
Print This Page
Email This Page
© 2017 Act First Safety