Material Handling 
Safety Products Catalogue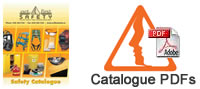 We offer a comprehensive list of products. View our Online Catalogue product categories. Click here.
Act First Safety carries a complete line of Industrial Supplies for Material Handling. Call us to discuss your specific needs. Some examples…

Kleton Pallet Truck / Heavy Duty – Rugged construction. Heavy duty polyurethane coated steel steering wheel and rollers. Reinforced fork channels and maintenance free sealed bearings. Capacity – 6600 lbs.

Kleton Rolling Ladder 3 step – Platform height: 28" Platform size: 22" x 16". Operates on spring-loaded casters

Kleton Rolling Ladder 8 step – First step activates floor locking mechanism. Platform height: 72" Platform size: 30" x 16"

4 Wheel Drum Truck – All-welded tubular steel frame. Handle containers 18" in diameter to 45 gallon drums. Rubber tired wheels (10" fronts and 6" rears). Capacity: 1000 lbs

Round Steel Drum Dolly– All welded frame. 24" inside diameter. Handles 45 gallon drums. 3" polyolefin casters. Capacity: 750 lbs

Rubber Wheel Chocks – Highly resistant. Steel ring on back. 9 1/2"L x 6 1/2"W x 8 1/2"H

Ralston Half Dome 180 degree Mirror – Ideal for "T" intersections. Heavy duty acrylic. 33" diameter
Please contact our office for further details on all our Material Handling products.
Print This Page
Email This Page
© 2018 Act First Safety