Head Protection / Hard Hats 
Safety Signs Catalogue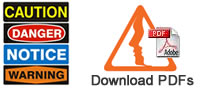 View our complete selection of top quality Industrial Safety Signs. Click here.
To meet your ongoing commitment to greater compliance, Act First Safety Supply offers a complete range of head protection from hard hats and bump caps to welding helmets. To increase the support of your health and safety policies from your workers all suspension types and classes are available from North, Degil, and MSA.
Here are some of the Industries best selling hard hats:


Peak A79R – Features a high-density polyethylene shell with reinforcing ribs for added strength and a rain trough to channel rainwater away from the neck. Four-point nylon web suspension is also adjustable vertically for a comfortable fit. Choose from pinlock or ratchet suspension. Includes a foam-backed perforated vinyl sweatband and accessory slots. Meets ANSI Z89.1 Type I and CSA Z94.1 Type 1, Class E.

Matterhorn A89R – Combines a high-density polyethylene outer shell with a comfortable inner foam liner. Four-point suspension is available with either the Quick-Fit sliding feature or an adjustable ratchet design. Rain trough channels away excess water. Includes accessory slots. Meets ANSI Z89.1 Type II and CSA Z94.1 Type 2, Class E. Specify colour when ordering.


The Wave – Top and lateral impact & penetration protection. Wave hard hat with Easy-Lock sizing adjustment or 'P.R.P.L.' ratchet style adjustment and 4 point nylon suspension.
Please contact our office for further details on Head Protection products.
Print This Page
Email This Page
© 2018 Act First Safety