Eyewashes

Safety Products Catalogue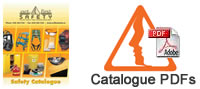 We offer a comprehensive list of products. View our Online Catalogue product categories. Click here.
Fast Delivery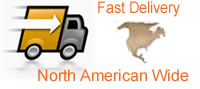 Fast Delivery. Most items shipped same day - North American Wide.
Act First Safety carry a complete line of Eyewash Stations, Showers, Eyewash Bottles, and Refill Supplies. Give us a call and let us help you select the most suitable unit for your specific installation.
Eyewashes – immediate use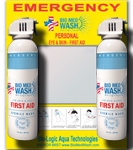 BIO MED WASH is a new product to us, and we feel are an excellent alternate to the older 32 oz eyewash bottles.  BIO MED WASH® is a sterile, heavy mist containing 100% Bio-Logic Aqua®, an all-natural, pH correct, pure tissue-culture grade of water. The application is helpful in removing particulate matter and crusted exudate from cuts and abrasions, and in removing irritating chemicals from skin and eyes.
View the BIO MED WASH demo below.
Eyewashes – 15 minute flow, non-plumbed units
The need for immediate emergency eye flushing requires the installation of emergency eyewash devices in accessible locations that require no more than 10 seconds to reach the eyewash where strong acids or caustics are present. Several popular options are available:
Fendall 1000 (most popular)
View the Fendall 1000 demo (click on video to expand to full screen).
The Fendall Pure Flow 1000 delivers unequaled eyewash safety, reliability, and value. The patented system delivers purified, contaminant-free, and physiologically correct saline solution from factory-sealed cartridges. Pure Flow 1000 does not require costly plumbing. It features a fluid pressure balancing system that provides a constant fluid flow rate and stream height for the entire 15-minute flushing period required by ANSI Z358.1-2004. Pure Flow 1000 factory-sealed cartridges last up to 24 months,* at least four times longer than other primary self-contained eyewash devices.
Bradley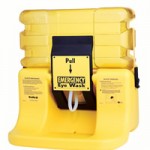 Bradley On-Site Gravity-Fed Eyewash Station Bradley On-Site eyewash station complies with ANSI Standard Z358.1-1998 Bradley On-Site Eyewash Station requires only 7 Gallons of solution to maintain 15 minutes of flushing fluid Weighs 60 Pounds, Filled Blow Molded Tank Will Not Leak –No Seams Built-In Handles for Ease of Portability Place on a Flat Surface or Wall Mount Patented, Clear Polycarbonate Solution Tank Allows for Visual Inspection of Flushing Fluid
Eyewashes – 15 minute flow, Plumbed units
Hughes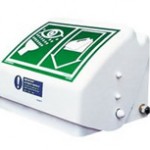 Hughes STD-45G. 'Unbreakable' Wall or Pedestal Mounted Emergency Eye/Facewash Fountain with integral lid, aerated diffusers, flow regulator and self-adhesive sign. Pedestal mounted model STD-45G/P Table mounted model STD-45G/T Available in Galvanised or Stainless Steel.
Print This Page
Email This Page
© 2018 Act First Safety